We are offering £50 off selected slow juicers!

Get £50 off selected Juicers with code JUICE50
ElectrIQ VRT400HD Cold Pressed Slow Juicer £139.97 Only £89.97 with code JUICE50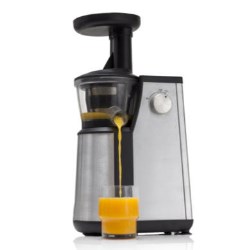 The ElectriQ cold pressed slow juicer is the healthiest and best way to extract juice from fruit, vegetables and even nuts, with very little waste. This powerful masticating juicer is fitted with the latest slow mastication technology to extract nutrient rich juice that will be perfect for helping with weight loss, diets or even just to get you on the road towards a healthy lifestyle.
ElectrIQ HSL600 Horizontal Slow Juicer £119.98 Only £69.98 with code JUICE50
The ElectriQ horizontal slow juicer cold presses fruits, vegetables, grasses, leafy greens or creates delicious nut milks. The low power 150 watts DC motor that spins at only 80 RPM ensures that fruits and vegetables are mechanically pressed without adding friction heat, which prevents juice oxidation meaning your juice will retain the maximum amount of nutrients and flavour.
 Buy your juicer today and juice your way to a healthier lifestyle!
Why not create your own mouth-watering healthy desserts? and recieve a FREE accessory
ElectrIQ ICMFD01 Frozen Fruit Healthy Ice Cream Maker – Only £29.98
Get a FREE accessory using promo code FREEPOP
You don't even need to feel guilty eating your homemade desserts, as they will be made from 100% fruit, making them fat-free and dairy free! Take a look here.